Year 2005

12-3 & 10 Christmas Parades!

Jimmy Sheets again, worked with me to organize an army of crossbearers for the Crystal River and the Inverness parades. The Lord blessed us with 25 crossbearers for the C.R. parade, and 21 crossbearers for the Inverness parade! These faithful servants of Christ Jesus came from many different church's around the Citrus County area. No church group was glorified. Jesus Christ alone received all the glory! We had music playing "Jesus loves me this I know..." and the tune remained in the hearts of those who were on the side of the road as they continued to sing along with the song. Mike Awe supplied pocket Bibles and some 700 Bibles with about 4,000 gospel tracts were distributed in each parade as we walked. People wanted the Bibles so much they would chase us down to get one. I wish to say thank you to all who participated! Michael Siemer and Ricky Nash came down from Chattanooga to hold their crosses at the end of the Inverness parade.
Last year
in the Christmas parades, we had 60 crossbearers walk the Inverness parade with white crosses.
Crystal River Parade - Dec. 3rd Line up starts at 4:00 PM on the west side of Citrus Ave. Parade begins at 5:30PM
Inverness Parade - Dec. 10th Line up starts at 10:30 AM at Citrus High School. Parade begins at noon.
11-14 Crystal River, FL
A follow up testimony to my update from 10-1 in Chatt. TN where Michael, Ricky and I exposed the Shriners and
Masonic Lodge
. For a number of weeks prior to the Shriner Circus, Ricky and I would note palm readers advertisement signs sticking in the ground all around East Ridge near Chattanooga. Each time we saw one, we would remove it and destroy it. These fortune tellers and psychics have set up shop all around town. After being threatened by the police at the Shriner Circus, who claimed that we were breaking a city ordinance when we turned on a loudspeaker, Ricky went to the city hall to check out the sound ordinances for East Ridge. What he found, is that the city has an ordinance forbidding psychics from doing business in East Ridge. Ricky went to the police department and showed them the ordinance. They had never seen it before! Ricky asked them to remove all of these psychics from their city, and glory to God, they DID!
Since I've returned to Crystal River, Michael and his family having come also, we have taken several trips to Gainesville with the crosses to witness the Gospel on the campus of University of Florida. The fruit is awesome! From noon until 7 PM, we had non-stop conversations with college kids who asked questions or wanted to defend their false beliefs. I had a
Catholic
boy contend with me over praying to the dead saints. He even went to his room and got an armload of books and returned to argue with me about the exaltation and glorification of Mary. We had atheists,
Muslims
, evolutionists and a bunch of
Jews
come to dispute and hear the truth of the gospel of Jesus Christ! One of the Jews was very receptive and took a New Testament bible I gave him. Some others were totally drunk and were very foul with their words and were very insulting to the God of Abraham! I even had a Chinese man, who spoke very little English, try to communicate with me as I shared the gospel message with him.
Hurricane Wilma shut down Fantasy Fest in late October. They have rescheduled this perverted party to Dec. 7th - 10th.
10-1 Chatt., TN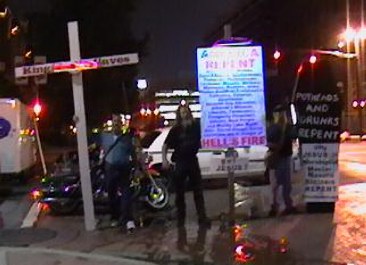 I have been in Chattanooga TN since early July, working with Michael Siemer building decks. This is my "tent making" time of the year to support my travels. On the weekends, we have been taking the crosses to "Nightfall" a Friday night drunken party in Chattanooga where the city blocks off a street and sells alchohol and sponsors live bands. Ricky uses a coffin to stir up conversations as you can see in the photo above! Last week, while preaching at another drunken event called "Wine over the River", where the wino's can pay $50 and drink all the wine they can handle, I had a young man walk up to me and ask "What is Truth?" I couldn't believe what I just heard and asked him to repeat himself. I then said "Your exact words are in the Bible!" He said "Show me!" So I took him to John 18:37-38 Pilate therefore said unto him, Art thou a king then? Jesus answered, Thou sayest that I am a king. To this end was I born, and for this cause came I into the world, that I should bear witness unto the truth. Every one that is of the truth heareth my voice. [38] Pilate saith unto him, What is truth? And when he had said this, he went out again unto the Jews, and saith unto them, I find in him no fault at all.
I then gave him John 14:6 where Jesus claimed to be the truth and shared the gospel message from Adam and Eve, the fall of man, the redemption of man and salvation through Jesus Christ. He asked to shake my hand as he now understood what "Truth" is! The young man then prayed with me to receive the Lord Jesus Christ into his life.
Another testimony worth sharing! Several weeks ago, the Shriners had a fund raising concert by an Elvis Presley impersonator. I had my sign "Only Jesus is Worshipful Master, Masons, Shriners Repent!" Ricky had the same sign on his cross, and Michael had a sign on his that is shown here in the photo: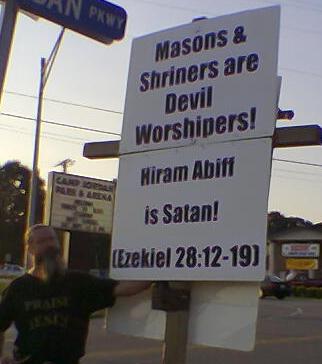 We had a lot of Shriners curse us and give us their usual "middle finger" wave! The testimony came several weeks later! Michael wrote a letter to the editor of the city newspaper that was published. It spoke about the wrath of God upon New Orleans and quoted the book of Nahum 1:3 The Lord is slow to anger, and great in power, and will not at all acquit the wicked: the Lord hath his way in the whirlwind and in the storm, and the clouds are the dust of his feet.
His letter caused some response by a Unitarian Pastor who condons homosexuals, and a United Methodist who is a UTC college professor who both denied that God would punish the wicked and that the wrath of God was Old Testament, not New. I wrote a response which follows:
It's interesting how many preachers write declaring their qualifications as a spokesman of God's word, and yet are afraid to declare the wrath of God. Although God is slow to wrath and quick to show mercy, he is still the same God of the Old Testament! Any scholar of scripture, who will research the term "Wrath of God", will find that it is spoken about in the New Testament as well as the Old! God never changes! Col. 3:6 For which things' sake the wrath of God cometh on the children of disobedience:
Only those who repent, will receive God's Mercy!
A few years ago, I received a prophecy from a dear Pastor in Florida, who pleaded with me to warn the people of New Orleans to repent (notably of the sins of Mardi Gras, which can be read about at www.crossbearer.net)! He prophetically foretold the impending doom of a massive destructive hurricane if they failed to repent. In the past 15 years, I've preached on Bourbon Street with over 2,000 other street preachers from every denomination. We warned them! They would not repent! The storm came! God's wrath is not on New Orleans alone but all America! Rev. 9:20-21.
The same day my letter was in the paper, I was in my motor home in Ricky's driveway when a police officer drove up and knocked on Ricky's door. No one was home so I stepped out and asked if I could help him. He said he was a friend of Ricky's and asked if I was Brian O'Connell. He said "I saw your article in the paper this morning and liked what you wrote! I went to your web site and spent 2 hours this morning reading it." He went on to say "I quit the
Masonic
Lodge! Your web page clearly showed the errors of Freemasonry and I am no longer in the Masonic Lodge!" I rejoiced with him and prayed for him that every curse of Freemasonry would be broken from his life. He went on to tell me that he saw us at the Elvis concert and when he saw Michael's sign (shown above), it shocked him! He had never considered that Hiram would be Satan and that they were devil worshippers. When he asked his other Mason "brothers" at the concert what they thought about us, he said they cursed us with very filthy language. At that point, he began to question his association with the Lodge seeing their ungodly hearts, knowing that we had a strong conviction in what we believed! (We had prayed that the evil hearts of the Masons would be manifested for others to see and God answered our prayer) So after reading my web page on Freemasonry, and seeing clearly what the Lodge was all about, this police officer humbled himself before the Lord and repented of his involvement.
8-14 Chatt., TN
I have added a web page for the Jehovah's Witness cult, on "
Wisdom
", a study on Proverbs chapter 8 where J.W.'s claim that Jesus was created by God!
8-7 Chattanooga, TN
Last week, I drove up to Chattanooga, TN where I am now and may spend a few months working here!
7-28 Crystal River
I have added a new page on
Homosexuality and the Bible
Scriptures dealing with Homosexuality. With the militant movement of the Homosexual group in America, I thought I would include a new page that Biblically deals with the issue!
I have also added a page to my Rapture study, contending with
Tim LaHaye's
false teachings of a pre-trib rapture. Many in the church's today have been influenced by this man's movies, so much so, that nearly all of American Churches have bought this fairy tale! I have also created a page of some very well known scholars who also taught the Post-Trib. Rapture to take place in Rev. 14, not in chapter 4
Scholars view on the Rapture
, and added a chart that more clearly shows the harmony of scriptural events of the
Rapture
!
I have been revising my web page on
Jesus
, contending with the Jehovah's Witness heresy that Jesus was created by God and that he is an angel! I think you will find this page very helpful to contend with J.W.'s when they come to your door.
7-7 Return from Honduras
You can read about my recent trip to
Honduras
as well as link to
Support-a-Pastor
where you can see the Pastors whom we support in Honduras!
Crystal River, FL
6-2
I have returned to Florida as I prepare to head for Honduras from June 7th to July 5th! You can see my personal photos and journal notes from the 2003 trip
Honduras
Marksville, Lousiana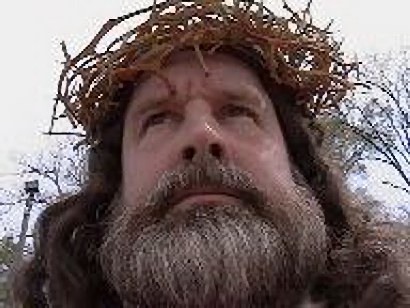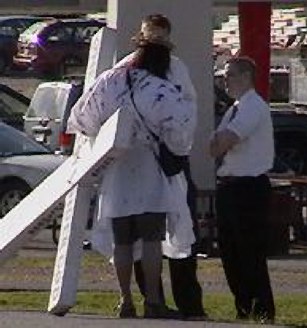 The crown of thorns. Lance reasons with Mormons about their false doctrine!
3-28 This past week, as we approached the Easter weekend of the celebration of the Passion of Christ and his resurrection from the dead, Lance and I put on a robe with fake blood on it, a crown of thorns (and a wig for me), and we carried the crosses in the towns of Bunkie, Pineville, Simmsport, Mauriville, and Marksville. In Bunkie alone, the Lord blessed us with 9 people who surrendered their lives to Jesus and asked the Lord Jesus Christ into their hearts. Friday night, we played the movie "The Passion fo the Christ" at the church and one woman whom I prayed with to receive Jesus on the street during the day came to see the movie. On Easter Sunday, Lance preached a message at Cornerstone Ministries here in Marksville.
To cover the towns with the crosses, Lance would drop me off on one side of town, and he would then drive to the other side and park the SUV. We then walk towards each other. As we pass, I will get the key from Lance and continue going opposite directions. When I get the SUV, I then drive to pick up Lance as he continues the other way.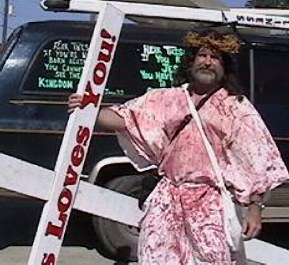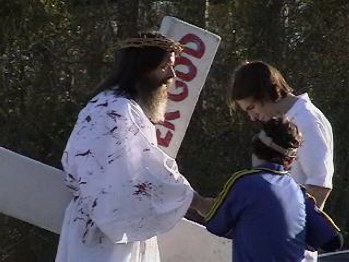 Brian prepares to walk Pineville. Lance praying with some people.
3-15 After Mardi Gras, I traveled to Jonesboro, Lousiana were I carried the cross in Rustin, Jonesboro and Winfield. After working 2 weeks there, I turned south to Marksville near Alexandria where Lance Rowe has been working. We both walked the cross in Alexandria and ministered to a number of people who stopped to talk with us. Lance had planed a tent meeting from Thursday until Sunday night. I walked the cross through Marksville on Saturday as the tent meeting was in progress in order to invite others to come to the meeting. The night Lance preached, 5 people came forward for salvation.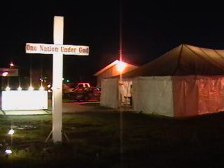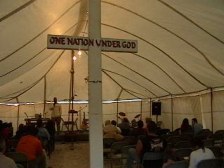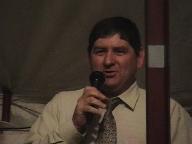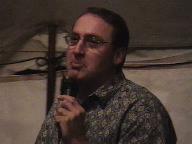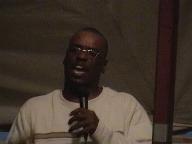 Mardi Gras in New Orleans
2-11 This past weekend I encountered my 15th year on Bourbon Street proclaiming the gospel of our Lord Jesus Christ. Howard and Stacey Patrick made a special effort to make their first trip to the outreach. The first night they arrived, at about 11 pm, Howard and Stacey decided to go out with us on the streets. After much prayer preparation, we mobilized to the French Quarters. As we were approaching Bourbon Street, Howard froze against the wall and drops of sweat rolled down his face. He had turned white and so I placed my hand upon his chest and began to pray for him. After returning to the camp, he told me that he felt like he had just entered the very pits of hell! But once they got out onto Bourbon Street, their fear subsided and they began to have a fruitful time of ministry handing out tracts and sharing the gospel to the lost.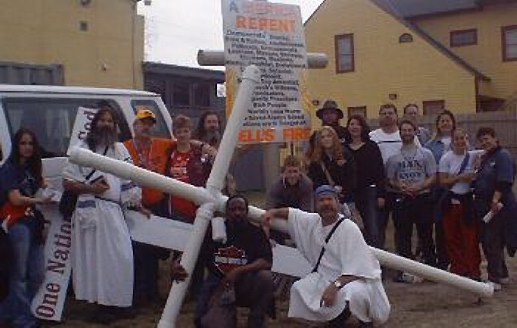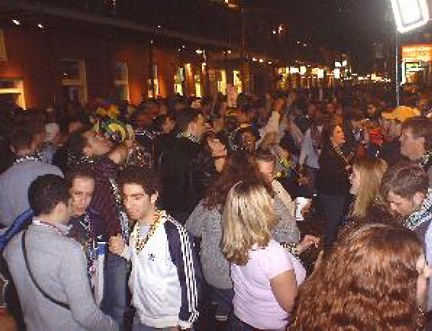 The outreach team on Fat Tuesday! The next photo shows the river of lost souls on Bourbon Street!
On Fat Tuesday, as we were headed to Jackson Square with the crosses, I had an encounter with a sexually perverted man. Since we are not allowed to use wooden crosses on Bourbon Street, we were forced to make our crosses out of PVC, which is permissible by the law. Instead of carrying the cross the normal way with the crossbeam to my front, I carried it with the crossbeam to my rear and the bottom portion lifted in front of me. A little man dressed in some kind of yellow leprechaun outfit grabbed the bottom end in front of me and started doing sexual things with it, which stopped me and prevented me from being able to move forward. I didn't know that Howard was ready to grab a taxi and leave, which he later confessed to me, but when this perverted demoniac was using the cross as a sexual piece, a Holy boldness overcame Howard and he pushed the cross forward, which was forcing the yellow man (who would not remove the cross from his "private place") backwards until he finally bumped into other people and he bounced off of the cross. After this encounter, Howard was ready for the spiritual battle to come. Stacey began to weep openly as the sorrow of the sin and blindness of this perishing people, climaxed by this encounter, struck her heart.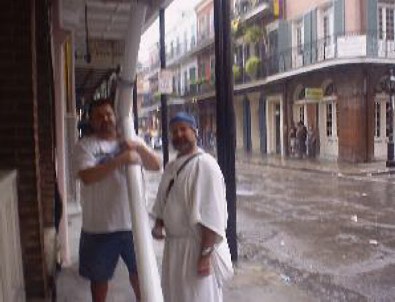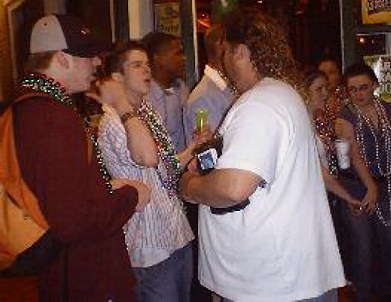 Howard clinging to my cross just minutes after the encounter with the perverted yellow man! Later, Howard had a fruitful night of witnessing!
Lee Rubin, a man whom Lance and I met last year, followed us with a camera doing a documentary on street witnessing. He started the project last year, but found this whole thing so big, that he waited until this year to get more footage before making the film. Lee is not saved, but he is asking lots of questions, on and off the film. Please pray for Lee that he gives a proper perspective in the film, and that he also finds salvation in Christ Jesus our Lord!
I had the joy of praying with two souls this weekend, who were very sincere in asking the Lord Jesus Christ into their hearts and lives. They are students at Miami University. I had an LED sign which I attached to my cross which scrolled the words "Lets talk about Jesus Jesus I repent come onto my life!" This was the maximum amount of letters I could put on the sign, but it scrolled the message throughout each night and drew the attention of many who would say "Hey, Jesus went high tech!" Lance had a cross with a built in sound system, and he played worship music much of the time. I thought it very unique, when I was down an alleyway and could hear the faint, but very distinct sounds of worship amongst the sounds of revelry. My greatest surprise is when I was standing just feet away from the cross and could hardly hear the music, and yet it was so clearly heard nearly one block away as somehow, the Lord was able to make this heavenly sound travel so far in a party that is so very consumed with the noise of sin!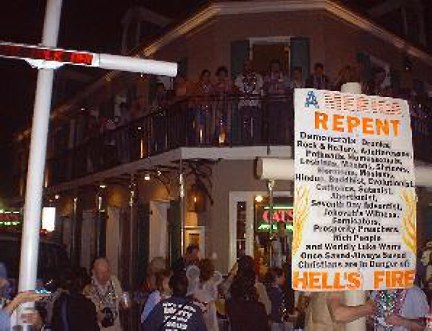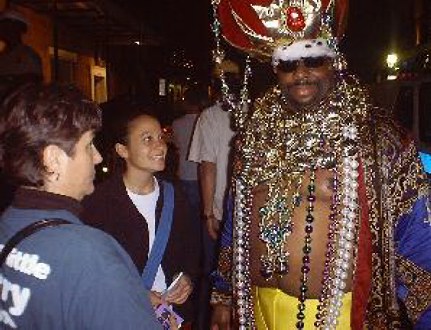 My cross has the digital scroll, and Michael's cross to the right. Mercedes and Ashley witness to partier!
We had favor with the police at our intersection this year! One man, who must have been about 300 lbs of muscle, tried to push down Lance's cross. He pushed with his mighty strength, but the Lord held up the cross so that this man was not able to topple it. He stepped back and studied the cross again, looking for wires or some support that was keeping the cross upright. After several attempts to push down the cross, he gave up. But the man then turned and assaulted brother Al. Al was wise and led the man, who continued to harass Al, to a police officer and then told the officer the man had assaulted him 3 times. When the officer questioned the man about the assault, the man did not deny it but said he did, with a rebellious "and what do you think YOU are going to do about it" type of attitude. The officer then went to handcuff the man who resisted. At the end, it took 7 officers to put the man down and handcuff him, taking him away.
As we preached with bullhorns, the heathen made an attempt to destroy the reputation of the Christians with a cleaver disguise. This event took place in Jackson Square. One of them dressed normal and tried to appear to be one of the Christians by melting into the group. He kept prompting the preachers on the bullhorns to speak condemnation to the hearers. The Christians kept telling him that we don't need to condemn them, and we need to tell them about God's love. When the guy realized that his efforts were fruitless, he then went into the crowd and began a "staged" fight with his friend, to make it look like Christians were beating up the poor lost souls in the crowd. But the police were there and arrested both of them. As they took them to jail, their leader, dressed like a devil, tried to hinder the officers from taking his friends to jail. So they arrested him as well and they all went to jail! Hallelujah! Our Lord God reigns!
The real joke of the whole event in Jackson square is this. While the preachers cried out the love of God and telling the people that God loves them and desires for them to repent and turn to Jesus, they used their bullhorns to chant "STOP THE HATE! STOP THE HATE….." while the whole time, they have signs with every blasphemous thing you can imagine. While we are preaching love and forgiveness, they respond with foul words of hate and rebellion, and then charge us with their own crime!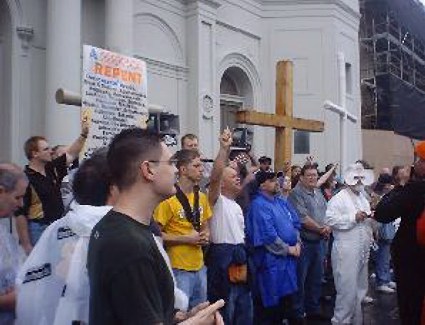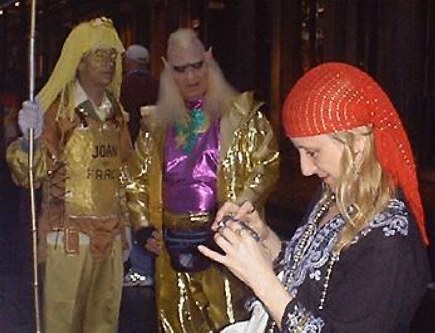 Preaching in Jackson Square! The next photo is of some revelers as evening sets in!
One girl came over to Michael. She comes every year to mock us with her boy friend, who dresses up like the Pope and mocks Christ and the Catholic church. She would dress like a nun but have the backside cut out with no underwear exposing her bottom side. She said to Michael, "Michael, I've been coming out here since I was 15 years old. For 10 years now I've seen you out here! I love you!" Whether or not she is finally turning, we don't know, but one thing is clear, our presence year after year in one of the most sinful parties in our nation, certainly is not in vain!
Isa 55:6-11 Seek ye the LORD while he may be found, call ye upon him while he is near:
Let the wicked forsake his way, and the unrighteous man his thoughts: and let him return unto the LORD, and he will have mercy upon him; and to our God, for he will abundantly pardon. For my thoughts are not your thoughts, neither are your ways my ways, saith the LORD.
For as the heavens are higher than the earth, so are my ways higher than your ways, and my thoughts than your thoughts.
For as the rain cometh down, and the snow from heaven, and returneth not thither, but watereth the earth, and maketh it bring forth and bud, that it may give seed to the sower, and bread to the eater:
So shall my word be that goeth forth out of my mouth: it shall not return unto me void, but it shall accomplish that which I please, and it shall prosper in the thing whereto I sent it.
Rescue Atlanta report
So what's this all about? Well as many of you know for the past 21 years we have mobilized teams of Soul Winners to work the streets of New Orleans during the Mardi Gras. Over 1.5 million people fill the streets to "Flesh Out" before they have to "REPENT FOR LENT" and make things "right" with God on Ash Wednesday. Mardi Gras is actually a religious festival and means "Farewell to the Flesh!"
To be honest, on Mardi Gras Day the "heathen" are tired of the Christians ruining "Their Party". While Mardi Gras Day (Fat Tuesday) is supposed to be a day of celebration and "Fleshing Out", it is also a day of mockery of Jesus and the Christians that have been sharing Jesus all week on the streets.
What's really bizarre is that the biggest display of mockery takes place in front of one of the oldest churches in America; the Saint Louis Cathedral, built in 1849.
We have preached on the steps of this Historic Church for over 20 years now on Mardi Gras Day. There have been many salvations, but at the same time intense opposition and mockery as well. In fact one year "someone" from the church came out and "Hosed Us Down" with a garden hose for preaching!
There is a dark area of the city adjacent to the French Quarter that is filled with old warehouses and small houses. "Some" of these houses are filled with people from the Occult, New Age, Homosexual lifestyle, and self proclaimed "Atheist". Out of this area a group has been formed called "BHFJ" or "Bong Hits For Jesus".
For the last several years they have come out to "Battle the Christians"! This year they actually made posters and placed them around the French Quarter announcing the "BHFJ Battle Against The Christians Mardi Gras Day 2-6 p.m.!"
The Poster was an incredible Mockery that had a picture of Jesus on the cross saying "Ho! Ho! Ho!" and the Easter Bunny, Santa Claus, and Witches mocking Jesus on the cross saying "You're The Fake!"
So at 2:00 p.m. in front of one of the Oldest Churches in America, as we say in 'da hood "It's on!"
As we stood on the steps of the church with our crosses standing tall, we began to tell the crowd about Jesus! It really is amazing the people that listen to the message, receive the message, those that are prayed for, and those that receive the Jesus Tracts that we pass out in the midst of incredible mockery!
"BHJC" actually stands out there and preaches a perverted message to those that pass by as well. But that's not all! They mock the cross by exposing themselves, male and female in front of the cross, they spit on the cross, and this year they took the Bible, tore out pages and lit them on fire! They then threw the Bible on the ground, stepping on it, urinated on it, and poured beer on it! Then yelling to the top of their lungs they cursed Jesus! All I could think of was HEBREWS 10:29 "Of how much worse punishment, do you suppose, will he be thought worthy who has trampled the Son of God underfoot, counted the blood of the covenant by which he was sanctified a common thing, and insulted the Spirit of grace?"
I'll never forget this one black man in his late 20's that was standing there in the midst of this perversion. He wasn't with our teams, but he just stood there with TEARS running down his face at what they were doing to Jesus!
A man dressed in dark clothing, long hair, and full of devils stood before the cross mocking, shouting obscenities, and holding a sign mocking the Lord. It was then that God spoke to my heart to go and "talk" to this man.
He was vile, and violent, but I got close to him and leaned over and whispered in his ear, "Thank you for being here. God is really using you!" He laughed hideously and said "You're crazy man, we are making fools out of you! Bong Hits For Jesus!"
I then pressed in on him and said, "Nope! God is using you to draw attention to the cross and the message that we are preaching. And God is using you to draw this HUGE CROWD! Thank you for being here!"
He yelled "You're crazy man!" It was then that I said "You're right! Crazy about Jesus! You came to mock God, but in actuality you're promoting God! People are seeing what a fool the devil is and how GREAT God is! Look, our teams are praying for that man over there! In fact, the weapons that you made to fight us, God is going to use to bring you down if you don't repent!" (That's scripture!)
He ran away for a moment, and returned to rush the cross when a New Orleans Police Officer pulled up on a Scooter. "Demon Man" ran in front of the Scooter and as he did his Black Cape got caught in the front tire of the scooter and was drawing him toward the officer! The NOPD yelled, "Get out of my way" and "Demon Man" yelled "I am trying to get the '*%#" out of your way. The Police Officer then got off his scooter, handcuffed him, and threw him in the back of the waiting Squad Car!
I want you to know that we did not call the Police, but this "Demon Man" was trying to set a trap for us, and ended up being ensnared by his own trap! Rejoice! Nope … my heart broke for this guy … he needs Jesus! So when you pray, pray for "Demon Man" and for the lost souls of "BHFJ".
Is it worth it? Do you think any good came out of this "War?" Absolutely! Jesus rescued many people that day from the pit of hell in front of the Church … Imagine that!