CJ's scripture for cars

A Great way to preach to others while driving! Turn your car into a Scripture billboard and smile when the car behind you waits for the red light, or the traffic jam holds you still!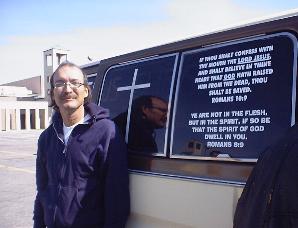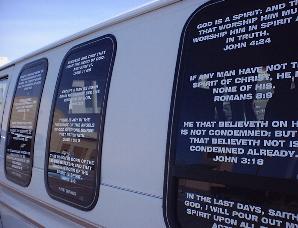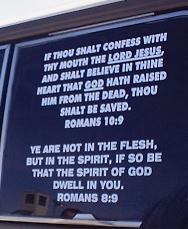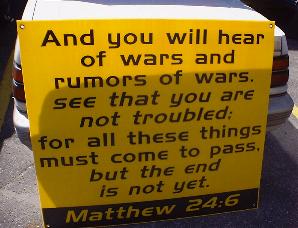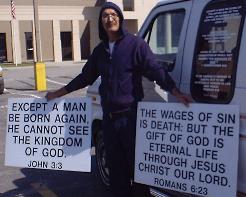 Brother CJ has a ministry of producing scripture passages which can be posted on your car or on plastic boards for use in preaching at events, even posted in your front yard! You simply remove the backing and rub it onto the window, then peel back the cover and within a few seconds, you have a scripture pasted to your window. It is a vinyl type material so it will last for years to come.

For more information you can reach CJ at:
C. J. SHULTIS
15-2679 NORTH OPELU STREET
PAHOA, HI 96778
PHONE NUMBER AREA CODE 808-965-1544 OR MY CELL 808-345-8614

Letter from C.J. dated 7-17-09

ALOHA BROTHER BRIAN,
HOW ARE YOU DOING THESE DAYS ? I MOVED FROM LOUISIANA TO THE BIG ISLAND OF HAWAII A COUPLE YEARS AGO. I BROUGHT A FEW HUNDRED SCRIPTURES AND ONE LINERS WITH ME AND SO FAR WE HAVE CLOSE TO 150 CARS WITH SCRIPTURES ON THEM AROUND THE ISLAND. THERE ARE MANY HAWAIIANS AND OTHER CULTURES HERE THAT ARE VERY OPEN TO THE TRUE GOSPEL. ITS VERY LAID BACK HERE AND PEOPLE ARE VERY FRIENDLY AND LOVE TO TALK STORY ABOUT JESUS. I HAVE BEEN OUT OF TOUCH WITH MANY OF THE PEOPLE I FELLOWSHIPPED WITH IN LOUISIANA BECAUSE I WAS VERY BUSY BUILDING OUR LITTLE HOUSE AND MAKING THE ADJUSTMENTS OF LIVING IN HAWAII. I HAVE BEEN TO DIFFERENT CHURCHES PUTTING ON SCRIPTURES AND ITS STARTING TO TAKE EFFECT ON THE COMMUNITIES ON THIS ISLAND. I WANT TO EVENTUALLY GO TO HONOLULU ON OAHU FOR ABOUT A MONTH AND PUT AS MANY AS I CAN THERE. THERE ARE 750,000 PLUS PEOPLE ON A VERY SMALL ISLAND. I BELIEVE THAT IF A COUPLE HUNDRED SCRIPTURES ON CARS THERE WOULD MAKE A STRONG IMPACT. PLEASE KEEP ME IN YOUR PRAYERS CONCERNING THIS.
I AM WRITING YOU TO LET YOU KNOW THAT THERE IS A CROSSBEARER ON THIS ISLAND AND HE IS CARRYING A CROSS AROUND THE ISLAND FROM TOWN TO TOWN. I TOLD HIM ABOUT MY COMING TOGETHER WITH YOU AND
LANCE ROWE
AND THE OTHER
CROSSBEARERS
THAT WERE IN LOUISIANA WHEN I WAS THERE. I BELIEVE THAT THERE IS GOING TO BE A GREAT SPIRITUAL AWAKENING REVIVAL STARTING IN THE HAWAIIAN ISLANDS. THE ISLANDS WERE FIRST CHRISTIANIZED BY THE
MORMONS
THEN THE
CATHOLICS
. THERE ARE MANY HERE THAT KNOW THE TRUTH AND ARE BRINGING IT FORTH TO THE PEOPLE.
IF YOU HAVE NEVER BEEN TO HAWAII OR HAVE AND WOULD LIKE TO COME OVER PLEASE CONTACT US WE WOULD LOVE TO HAVE YOU STAY WITH US. ITS PARADISE IN THE NATURAL. ARE YOU STILL LIVING IN FLORIDA ? LET US KNOW HOW YOU AND THE OTHER CROSSBEARERS ARE DOING. I WILL DO MY BEST TO KEEP IN CONTACT WITH YOU GUYS MORE OFTEN.
THANK YOU MY FRIEND FOR ALL THAT YOU DO FOR THE KINGDOM OF GOD'S SAKE AND MAY GOD'S PRESENCE BE CONTINUALLY ON YOU. THAT THE RIVER OF LIVING WATERS FLOW WITHIN YOU AND THAT THE ANOINTING GLOW ON YOUR FACE ALWAYS.
YOUR FRIEND AND BROTHER IN CHRIST,
C J