Fantasy Fest '01

Key West, Florida (Fantasy Fest)

10/25 Thursday
Richard, Michael, Pastor Mike Vacha and I traveled to Key West.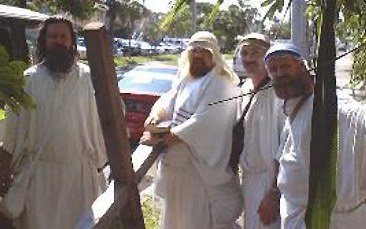 Michael Siemer, Richard Martin, Michael Vacha, and Brian O'Connell
10/26 Friday
Walked Duval Street during the day and covered the entire street. I had a few conversations as we walked the rout. Richard, a former Sheriff, loves to evangelize police officers and as he passed one, he gave the man a tract. The man called Richard to return and he poured out his heart. This Catholic man had been rejected by the Catholic church for marrying a non-Catholic. So Richard prayed with the man as he surrendered his heart to the Lord Jesus Christ.
10/27 Saturday
Mike Awe and Bob Spalding joined us with 2 other laborers and left for the streets with backpacks full of tracts and Bibles. We were also joined by Pat Henyon, a brother in Christ Michael and I met 3 years ago at Fantasy Fest. At that time, he left the party and spent the rest of the night passing out tracts with us. This year, he wore a robe and carried a cross with us each day. He now dives a truck with Jesus painted all over it and bolted a large wooden cross to the tailgate. He now has the vision to travel the USA and preach at drunken parties like this one.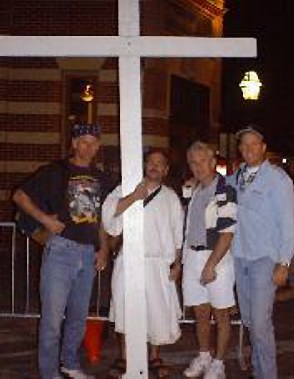 Pastor Mike Vacha, Mike Awe and Bob
Spalding with another brother to the far left.
Michael built a giant cross out of 6x6 beams with the plan to secure it to a telephone pole on the parade rout and during the parade, he hoped to climb up on it to hang as the crucified Christ. So we gathered the crosses together and put them in Pat's truck and headed for Duval Street. It was now about 3 PM. At the Northernmost main intersection near the water, we unloaded the crosses and carried them to our location. There were police officers everywhere and we wondered how we would latch the cross to the pole without being seen. It was a miracle, but the police were so occupied with the crowd that we were able to stand the cross upright against the pole without drawing the attention of the police. We tied it to the pole and left it. The rough wood blended in with the cement pole so it almost disappeared against the background.
Michael and I walked the long trip to the other end of Duval to get a bed sheet Michael had found yesterday which he stashed into a bush. He wanted to use it to wear as he planned to hang on the cross later tonight. So we passed out many tracts as we walked to the other end, passing the Homosexual corner where men danced on a stage wearing only a g-string, throwing beads to the crowd. This year there was no limitations as to clothing and some people were totally nude walking the streets. 3 couples were reportedly arrested for having sex on the street in the presence of the multitude.
After collecting the sheet, we returned to the Northernmost intersection where the cross was tied to the pole. A police officer had noticed the colossal structure and asked Richard to take it down. The pole is extremely heavy and Richard told the officer he would tell us to take it down when we returned. When we returned, although Richard informed us of the words of the officer, we let it stay. They never said another word. The parade began around sunset and as I looked around, people had climbed onto every garbage can and telephone pole to get a high look at the perverted floats with near nude and even nude participants as they sang the National Anthem and displayed the American flag which was the "Theme". Michael climbed upon the cross after splashing fake blood on himself and wrapping his waist with the sheet we recovered from the bush earlier.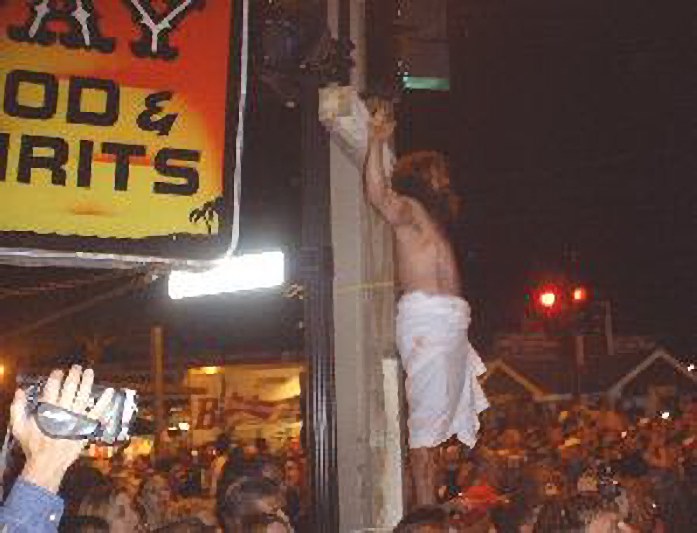 Michael hanging on cross during parade
Drunks holding a beer in their hand would angrily scream out "Blasphemy" and another would shout "Sacrilege" as they pointed at Michael on the cross. They immediately forget about Michael and the cross as a nearly naked woman would walk past stealing their attention as they glare at the woman with lustful eyes, swinging their waist as though they were having sex with the woman.
People on the floats were in shock as they laughingly searched the crowd to throw their beads and then their eyes landed on the scene of the crucified Christ. Their countenance would suddenly change as they beheld their judgment. We are the stench of death to those who are perishing!
2 Cor. 2:14-16
Now thanks be unto God, which always causeth us to triumph in Christ, and maketh manifest the savour (fragrance) of his knowledge by us in every place. [15] For we are unto God a sweet savour (fragrance) of Christ, in them that are saved, and in them that perish: [16] To the one we are the savour (fragrance) of death unto death; and to the other the savour (fragrance) of life unto life.
On many occasions, partiers would tell us "You don't belong here, go home!" Yet Jesus said "Go into ALL the world and preach the good news to ALL creation.."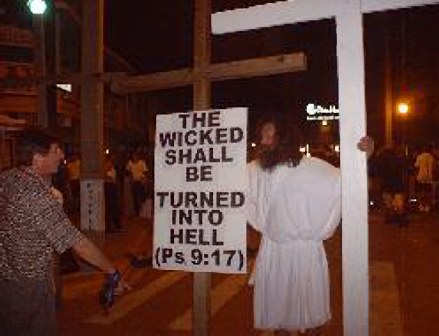 The most common words from mockers
"Hey, Jesus didn't have a wheel on his cross!"
Michael only lasted about half an hour until the blood drained from his arms and he went numb and then he climbed down.
We had lots of people to minister to after the parade ended. I was blessed to be able to witness to several
Jews
. One woman from Israel said " This is the most sinful place I have ever been". She too was dressed for the occasion and commented "I cannot believe that I am dressed like this" as she realized the immorality of the party which she was partaking in. I shared with her many scriptures revealing that Jesus was the Messiah and when she left she received the Gideon's pocket Bible I had.
Michael was reaping souls who were now surrendering to the Lord Jesus Christ. I had a very long conversation with a man who claimed that he himself was a God and although he spent one or two hours wanting to convince me of his heresy, the Lord blessed me with the opportunity to feed him an arsenal of scripture. The word of God is seed, and it is Spirit and Life. I trust the Lord that when I have opportunity to plant the seed of the word of God into a persons heart, even though they dispute with me, the word now planted is the seed which the water of the Holy Spirit can rain upon and bring forth LIFE on some future date!
So, although he never received Christ as Lord, I rejoice that I was able to plant so much seed in his heart.
Morgan City, LA (Shrimp and Petroleum Festival)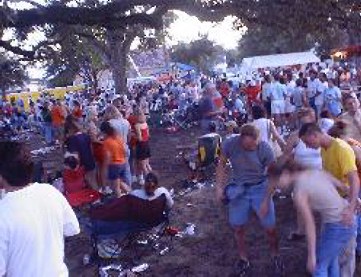 Multitudes in the valley of decision! The festival crowed!


8/30 Friday
Today, the Shrimp and Petroleum Festival in Morgan City begins. A 4 day drunken party with lots of booze, food and music. Steve and Mary Bell, a precious brother and sister in Christ, have a Christian coffee shop nearby, where drunks and homeless come to get coffee and end up getting some love of Christ. Steve and Mary had a flatbed stage set up a block away from the festival and invited a variety of Christian bands who will play throughout the weekend and lift up the name of the Lord Jesus Christ. Lance and I were blessed to see our friends from the "Testimony Band" who worked with us in Grand Isle at the Tarpon Rodeo.
We met several men who had a beer in their hands and watched as the band played. We walked over to witness to them, and 2 of the 3 were very open to hear the gospel. We learned that a brother in Christ, who was a few years ago one of their partying friends, had gotten saved and was being a bright light to these guys. (We met this brother, James, the following day and after sharing how much these guys had been touched by his witness, his eyes spilled tears of joy.) Darren, the young man I spoke to, said, "When I give my heart to Jesus, I want to pray with my brother, James!" He had much respect for James and the wonderful testimony and light he had shone on him.
I witnessed to a man on the park bench. He claimed that he once got saved, but he had lost his faith and now he didn't believe. I could sense that he actually did still have a little faith so I encouraged him saying that the Lord still loves him and will take him back if he will return. He seemed to receive it but then left. I then ministered to a young man, Jacob, who gave his life to Jesus while in prison. He was hanging out with a bunch of guys who claimed to be atheists, dressed in black with pins in their faces. (Like the New Orleans gutter punk crowed) These are usually very hurt young people who are now mad at life and society. I had some fruit with one of them earlier. Sheryl and Francis were ministering to several of them to my side. Jacob and I had a fruitful conversation and at one point his sister (in the flesh) came. She was not saved and after I proclaiming the gospel to her, she prayed to receive the Lord into her heart. I was encouraging her in the Lord and sharing many scriptures. I asked her if she had a Bible and since she did not, I gave her a pocket Bible I was carrying for new Christians. Although Jacob claimed that he had 2 Bibles, he grew angry and barked at me "You give her a Bible and I don't get one?" I responded, "I'm sorry brother, That was the only one I had on me. If you want one I can bring you one tomorrow." Looking at me with intense anger, he grabbed his sister by the arm, threw his empty plastic beer cup at me, and left. My heart sank to my feet as I wondered why this brother, who was so joyful talking with me, and even prayed with me and his sister as she accepted Christ, now all of a sudden, was angry at me. It's demonic, manipulative and someone reading this article may be using this little tactic to get your way. Don't! It is very hurtful to those left in bewilderment and shock!
Latter I saw Jacob with his friends and walked over to him. I said "Hey brother, if I offended you, please forgive me!" He talked to me again and said he felt I was making a pass at his sister. He has some issues that need to be dealt with but I was again able to minister to him as we made peace with each other.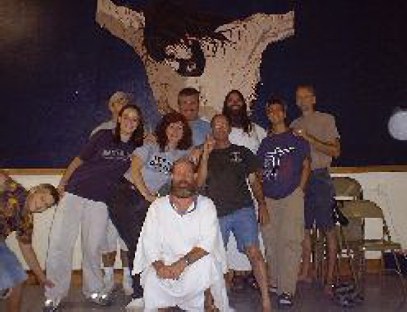 Mighty Army of God gathered together to invade this
party with the wonderful light of the Gospel of Jesus
Christ!
9/1 Saturday
Lance, Francis, Sheryl and I traveled back to Morgan City. We walked the park where the festival was actively moving with people and ministered to those who would listen. Lance led a Vietnamese Shrimper, Lihn, to the Lord.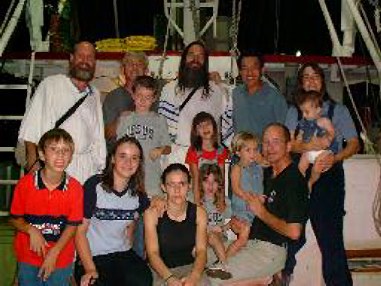 Gathered together on the fishing boat of brother Lihn.
Lynn is standing between Lance and Michelle.
I met Steve, who had come to Morgan City to get a job on a boat, but was denied the job and now he and his friend were jobless and broke. He came to the coffee shop for some refreshments.
In the evening, we walked into the crowd with the crosses as the band played. I had to scream loudly to talk over the music. A man expressed his hatred of black people. I don't know if he thought I was KKK but I told him that the Bible says:
If a man say, I love God, and hateth his brother, he is a liar: for he that loveth not his brother whom he hath seen, how can he love God whom he hath not seen? 1 John 4:20
And
Whosoever hateth his brother is a murderer: and ye know that no murderer hath eternal life abiding in him. 1 John 3:15
We had a very long conversation and he began to lighten up and respect me. At one point his wife stood up and asked me to pray for her to stop drinking. So I prayed with her and she asked Jesus into her heart. Her husband bought me a soft drink and we continued to talk. I prayed with him although he did not ask Jesus into his life. But as he left he invited me to his home any time and said if I needed anything at all, to just ask him.
During the night, a man who kept coming over and, taking hold of my cross, would shake it violently trying to tip it over irritated me. He would ask questions like, what will you do if I broke off your wheel (referring to the wheel on the cross). I was in conversation with another person so I ignored his interruption.
A man who claimed to be Pentecostal, but was very bitter, on several occasions hindered my ability to lead other people to Jesus by interrupting and speaking what could be considered blasphemous statements. His wife, also drunk, was in awe with me as she thanked me for being out there in this drunken party. She asked me to pray for them and as I did pray, the husband looked at me with a hardened heart. A relative was dying of cancer and he was bitter at God. I charged him saying "Mister, your relative is dying of cancer and instead of crying out to the Lord for his healing and mercy, your out here getting drunk, shaking your fist at God and cursing Him. Does that make any sense at all?" His face grew tense and angry but I think he heard the point. His wife, on the other hand, was crying out to the Lord in her heart.
I was losing my voice as I spoke to several other people. While speaking to one man I prayed Lord, please shut down this music so I can speak to this man. The music ended, and now was able to speak to a man without shouting. But shortly thereafter the police came with the siren screaming and remained nearby until we left. They wanted to clear the field quickly! NOISE! Sure makes it hard to witness!
9/2 Sunday
Lance and I went to Cornerstone Ministries in Morgan City for church and were asked to share our testimonies. I shared about my trips to Europe, Honduras and Great Britain, Lance shared about his brush with death in January. Pastor Tommy had an alter call and to my wonderful surprise, I prayed with the young man I met yesterday in the park. He had come to church this morning and gave his life to Christ. He had come to Morgan City to get a work on a boat. But they wouldn't hire him because of a previous back injury. So he had run out of money and was now on the streets. We took him to lunch and then returned to the "Yesway Café". Steve and Mary Bell had some Christian bands come and as they set up the equipment, we rested. In the evening, after starting off the band intro with a blast of the shoffars, we went out to the streets.
We had to contend with the rain throughout the day. It poured heavy for about an hour and this turned the festival field into a large mud pit.
I immediately met a young man who was illiterate. He was angry at times, then weeping as he would break under the anointing of the Lord. As I shared the Love of Christ, quoting scripture such as the one lost sheep for whom the shepherd left the 99 to find, or the servant who labored for one hour receives the same pay as the one who worked all day, he would weep and say "Your destroying my theology!" He said he could not believe that the Lord could forgive him for what he had done in the past. I spent much time assuring him of the Lord's faithfulness and willingness to forgive any sin. He wept, as he wanted to believe what I was telling him. I prayed with him and he asked if he could see me again tomorrow night here.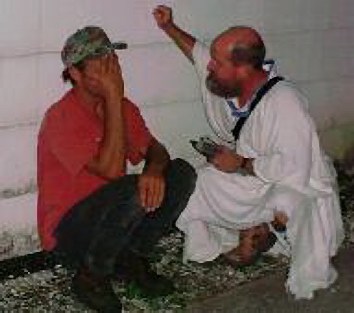 Hurting young man who struggled to accept
the forgiveness of God!
We went to Brother Lihn's shrimp boat at the docks to watch the fireworks at 9 PM. Lihn is from Vietnam and Lance had prayed with him to receive Christ yesterday. Lance had spent some time this afternoon with him. He wanted us to come to his boat for the fireworks. We prayed over his shrimp vessels and then returned to the streets.
Lance had great crowd of teens gather around him as he shared the gospel, so I entered the crowd with them. A young girl wanted to ask me questions and as I did, another teenager started to contend with me on a few things. She was Church of Christ, which I have learned through the years, are very contentious people who seem to despise the ministry of the cross. I quoted several scripture as to why I carry the cross, and we covered several other issues. But while we were speaking, a crowd also gathered around me to listen to our conversation. Eventually, 5 Catholic teenage boys prayed with me to receive Christ.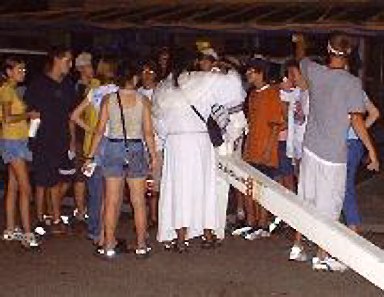 Lance draws a crowed of interested teens
who gather to hear about Jesus!
I then traveled into the area where the band (Marshal Tucker Band) was playing and stood near a beer sales booth where a group of bikers were standing. People coming off the field were dredging through the mud, some were covered from head to toe in mud, obviously they had either fallen or laid in the mud. I gave out several tracts and had some small conversations, but then I met a young man who started asking lots of questions. He finally had to go and asked if I would walk with him to his motorcycle. So we traveled several blocks to get his bike. He didn't have the faith to believe, but was seeking answers. So before he left, I prayed for him to find the faith to believe in Jesus Christ. While I was praying, someone came over and blew a long horn blast in my ear, which made it very difficult to concentrate on the prayer. I ignored the interruption and continued to pray. When I finished, there where two men standing next to me. One was Catholic and the other (Rusty) a Methodist. The Methodist asked me to pray for him. The Catholic man simply made excuses for his drunkenness with no heart of repentance and made some unbiblical remarks, thinking he was being biblically correct. I believe he was the one who blew the horn. Nathan left on his bike and the Catholic man left leaving me with Rusty. Rusty worked for the Coast Guard and said his boss was atheist and he was now losing his faith because he could not answer the questions of his atheist boss. His wife had left him and returned to S.C. After a short conversation about Evolution verses Creation, I shared with Rusty the fact that his boss was a servant of the devil, since he was not Christian and that Satan wanted to steal his faith and destroy his marriage, and his life, and he seems to have done just that. Rusty began to weep as the truth hit him like ton of bricks. I prayed with him as he wept harder and his faith in Christ was restored. He was very grateful and offered to help me with anything I needed. I said, "The Lord is faithful, all my needs are met, brother!" He hugged me and I returned to the café.
Nathan, the biker, returned to meet us at the café for coffee and peanuts.
9/3 Monday
We visited Lihn, the man Lance led to Christ Saturday. Lance had a photo and a Jesus video in Vietnamese that he wanted to bless Lihn with. Lihn in turn blessed us with a cooler full of shrimp.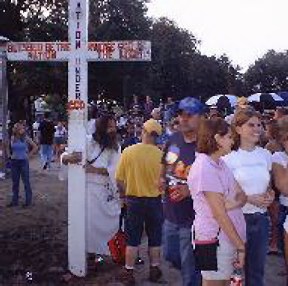 Lance witnessing to a man at the Festival.
We took the crosses out to the Festival field and passed out thousands of tracts by our ministry team. It was a different kind of night than the rest in that I had no long conversations. The previous nights I had ministry with people that would last an hour or more. Tonight I had only a few lasting conversations of more than 5 minutes. But two of those conversations led to salvations. After the music ended, the police again chased everyone from the field and people quickly left for home. I passed by the back stage and met a Jewish brother in Christ. He shared his testimony with me.
His Jewish father, on his deathbed, was dying from cancer, which had blinded his one eye, and left him with only 20 percent in the remaining eye. He had to look directly at the window to see any light at all. His father said, "I haven't lived a clean life, I smoked, I drank a little, but I never stole, cheated or lied; and I believe in Jesus!" This brother said he thought "Oh no, I don't believe any of this!" But then his blind father turned and looked him straight in the eyes and said, "YES! You don't believe me, but I believe in Jesus!" He was shocked that his blind father was able to look him in the eyes and that his father knew he didn't believe him. Right then and there he gave his heart to Jesus.
We returned to the coffee shop where Steve and boiled up some of the shrimp with some potatoes "Cajun style" and we feasted on the blessing from the Lord with plenty to spare for tomorrow night.
Houma, Louisiana

8/17/2001

Lance and I are in Houma, but with all the rain, which is daily, we have not been able to walk the cross very much. I have been distributing the
Mason
literature to every church I can find, informing the Pasors of the danger of this cult. On weekends, we have been preaching with loudspeakers in high crime neighborhoods. Every week, we see souls coming to Christ as the spirits of darkness begin to bow to the name of the Lord Jesus Christ. It is an awesome thing to see the hearts of these crack cocain dealers and users, prostitutes and drunks, soften by the Spirit of God and His word!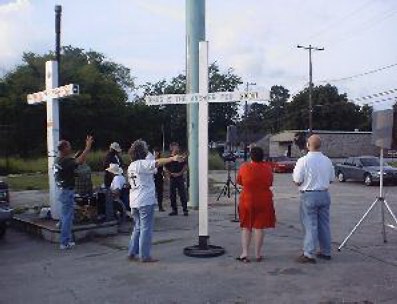 Gathered together in worship on Saturday evening. The building

accross the street is a bar and after dark, a large crowed comes

to the bar, and get fed the word of God!

Chattanooga, Tenn.

I have just returned from
Ireland and England
and currently in Tennessee. Riverbend, a drunken party, is currently taking place. I am very tired and will get some rest, but hope to get out on the streets this week to proclaim the gospel to the lost souls here.

Jonesboro, Louisiana

4-13-2001Friday
New Orleans, Louisiana
Tampa, Florida