Andy & Becky Smith

Missionaries to Kiev Ukraine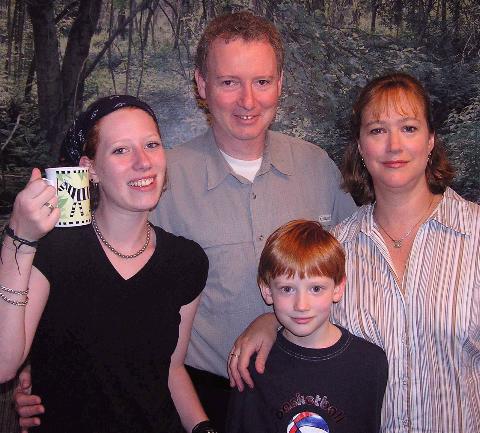 Andy, Becky, Sarah and Yasha

The Smith Family
Serving with King's Kids in Eastern Europe
A ministry of Youth With A Mission
Address: YWAM - PCYM, PF. 766
H-1437 Budapest HUNGARY
Phone: 1-011 (361)405-5740
As part of the first King's Kids team in Perm, Russia this summer. fourteen-year old Zhanna was handing out Books of Life to people on the street before church one Sunday morning. She approached a man and held out the small book that tells the life story of Jesus. He looked confused. He pointed to the book and looked Zhanna in the eyes, questioning. Then she understood that he was mute. She said, "It's about Jesus." He hesitated and pointed again to the book. Zhanna said, "Oh, it's free, a gift." Then his eyes grew wide and he reached out to take it. As he did, Zhanna looked at him with her beautiful bright blue eyes and said, "God loves you." He stared at her until tears formed and rolled down his cheeks. He tried to gesture and ask her something, but she didn't understand. She called two of the other teens over and the man mouthed "church". They told him that they were going to a small church and invited him to come with them. They prayed for him on the street and again tears flowed down his cheeks. He came with them to church and gave his life to Christ that morning. Later we found out that he had been trying to find a church for years, but had been unable to find one until he met Zhanna out on the street handing out books to people.
I began writing this newsletter the evening of September 10. The next morning we watched the attack on America live on CNBC. Being so far away, Andy and I felt helpless as we sat with our hearts pounding. We did the best we could do; we cried and prayed. After seven days of anger and sorrow, I feel like I can begin to write again.
Being the great missionary that I am, it finally dawned on me yesterday that God is in control. He is not shaken or alarmed by what happened. He knew that it was going to happen and although He grieves for those who died and the thousands who are suffering because of the attack, He is still the Prince of Peace. Jesus sent us the Holy Spirit to be our Comforter and it is to Him that we can run for comfort and peace. America, we just want you to know that, although we are in Hungary, we are very much with you. We hurt with you and we are praying very much for you right now.
The recent tragedy makes me think of how fragile life is and how important it is that we share the hope we have with those who have never heard. While we were in Perm this summer, we did seminars on parenting and on child and youth ministry. We really enjoyed doing those teachings and helping the people who live in Penn, Russia become equipped for the ministries to children and youth that God has called them to, but even more we enjoyed leading the first Kings Kids "boot camp" and outreach in that part of Russia. We call the first week "boot camp" because we focused on preparing the 40 teenagers and staff for outreach. With two teaching times each day on knowing God and making Him known to others and with hours of practice each day on evangelistic dramas, songs and choreography, the schedule was full. Add to that hours of carrying water from the spring for cooking, washing dishes and flushing toilets for all those people! The camp we were in had no running water, except what ran out of a pipe on the hill!
Having completed an intense week of preparation, we were ready for the bumpiest bus rides of our lives. With 40 very loud and excited people, we arrived in the small town of Chernooshka for a week of outreach. We lived in an orphanage, also with no running water (I think God was trying to teaching me something!). Thankfully, a sweet babushka (grandmother) down the road let us carry (again!) water from her well and there was a public sauna and shower house where we could take showers every few days (seriously!).
After a good week of outreach in Chernooshka, we had another jostling bus ride to Kungur. At last, running water and showers! We stayed in a hostel and from there we did outreaches every day to surrounding villages, occupied primarily by Muslims. One village had three mosques, but no church. We were very well received in that village by a handful of people, but we handed out hundreds of "The Book of Life". We only found one ripped up on the road, while most were eagerly taken.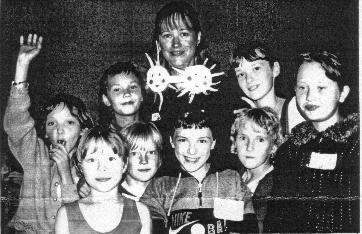 The pastor of the small church in Kungur took all 40 of us to see the Ice Caves after church on Sunday. Outside the entrance to the caves were a dozen people with tables who were selling souvenirs and trinkets. A few of the teenagers from our group began looking at the souvenirs. Anya, age 17, was wearing a bracelet that had Jesus' name written in Russian and in English. One of the vendors saw her bracelet and started trying to sound out the name of Jesus in Russian. She had never heard His name before. She asked, "EEESOOS, what is that?" Anya answered, "He's my friend." Anya was able to share the gospel with her and several other vendors for the first time ever. Anya is so excited about learning how to share her faith this summer.
When we returned to Perm, Anya helped as we partnered with her church to do "Vacation Bible School" for around 100 mostly unchurched children from their neighborhood. One little girl, around 7 years old, prayed for the first time in her life. She was so excited about it that, while the other children played games on a playground, she asked her teacher to teach her more about prayer. She didn't know that people could talk to God like that! Many children heard about Jesus for the first time.
Overall, I guess you could say that our two months in Russia were a lot of hard work, very busy, but two months that we wouldn't trade for anything! A group of teenagers and adults from the church came to the train station to see us off. It was a very tearful goodbye. They begged us to come back again some day.
We learned a lot of things on this outreach, not all of them being "spiritual". We also learned:
• When you only have one set of headphones for three people, you can lay two glasses on their sides, place each of the earpieces in a glass, turn up the volume and voila! It doesn't sound very clear, but at least we could all hear it.
• A Mickey Mouse pool air mattress can be a tremendous blessing when the "bed" you are sleeping on is so hard that the cook could roll biscuits on it!
• Plastic grocery bags make a very nice wrap for a toilet seat that almost makes you believe that toilet seats evolved from porcupines or vice versa. Ouch! In one place, our toilet seat was so splintered that we had to wrap it in bags, but at least it was a real toilet! (I have a picture to prove it!)
• Never drape a white shirt that you scrubbed clean in the bathtub (we washed everything in tubs, when we had tubs) over a rusty pipe to dry or your shirt (in this case, Sarah's shirt) will end up looking like a leopard skin shirt.
• When you fly KammiAir from Moscow to Perm, you leave Moscow at one o'clock in the morning and arrive in Perm at five o'clock in the morning! The blessing of this "red-eye flight" is that you get a spectacular three-hour long view of sunset, and actually are looking over the top of the earth at the sun on the other side of the world! It would be about noon on the East Coast then.
LOOK OUT KIEV! HERE WE COME!
We have been praying and considering for four months where to pioneer a PCYM school for Russia and Ukraine. After consulting with YWAM and Kings Kids leaders in this area, we have decided to move back to Kiev, Ukraine. We already have three-year, multiple-entry Ukrainian visas for our family. From Kiev it will be easy for to take a train into any part of Eastern Europe to do training and outreaches.
We look forward to helping the churches in Ukraine reach the youth around them. They are so anxious to do it, but lack the "know how". The youth of the post-communist countries are floundering into drugs and prostitution at a rate that alarms us. These things were strongly controlled in the past. Families are breaking apart as alcoholism holds them in it's strangling grip, causing tens of thousands of children to begin a horrible existence of cold and hunger on the streets. Every time I see one of them, I ask "Whose child is this?" and each time the Lord answers, "YOURS!" We must help them and we must teach others how to help them. This is our calling.
THANK YOU so much for the financial gifts that so many of you gave to help us with the outreach to Russia this summer. We are so thankful for all of you who pray for us so faithfully and who give when you could be spending that money in other ways. We realize completely how important you are to the work that we do.
If you would like to get more frequent reports from us by e-mail, send us a message at:
smith_fam@hotmail.com
Direct tax-deductible gifts to: YWAM - Slavic Ministries, PO Box 4213, Salem OR 97302. (503) 363-1571
Checks should be made out to YWAM - Slavic Ministries. Our names should not he written anywhere on the checks, but please include a separate note that it is for our support. Thank You.