Israel Makhijani
REACHING OUT
ESPECIALLY TO UNREACHED
SINDHIS WITH THE
GOSPEL OF JESUS CHRIST
ALL OVER THE WORLD
Israel Makhijani
London Office:
Israel Makhijani (Ministering worldwide)
Light To All Nations
P. 0. Box No. 3517. London NW64QQ.
Tel.: 0171-625-4231
India Office:
K. Valsalan, Chairman
India Pioneer Ministerial Associates (Regd.)
16, Aashiyana Vihar, Shanta Apte Road,
Bopodi, Pune 411 003, India.
Tel.: 212-314416.
INDIA PIONEER MINISTERIAL ASSOCIATES
is a group of dedicated believers in India moved by the Spirit of God to preach the gospel of Christ effectively especially in slums and villages. We praise God that many souls were won to the Lord. This group was registered as a Trust in the year 1982 to identify the soul winning ministers and extend support and encouragements to them. During this process we were careful not to interfere in the already set up ministries of the Lord.
The person who was inspired to carry out the gospel work by Indians in an organized manner under IPMA is a Pakistan born Sindhi, brought up in India - Gobind Makhijani. Lord
Jesus came into his life while in the USA. In 1975 he gave his life to the Lord. He came to India where he confessed and preached Jesus for a while in the streets, homes and churches, but all were not well with him in India. Whereas his family and relatives boycotted him, and others were not so encouraging so he left India and went to U.K. He appointed some Trustees to carry out the gospel work and support the independent Christian workers. In 1984, Mr. Makhijani started LIGHT TO ALL NATIONS' in London. At present, he is settled in U.K. with his wife Margaret. Though he had relinquished his Trusteeship, he still longs to be often in India for evangelical work especially amidst Sindhis.
In the past he had the opportunity to work with Campus Crusade for Christ, and Operation Mobilization. He had traveled to U.S.A., Mauritius, Canada, Germany and Switzerland preaching Lord Jesus Christ in the open.
His love for the Lord can be seen from some of the available photographs during the last 20 years. Kindly uphold him in your prayers that God may lead him and use him more and more. He is now known as ISRAEL MAKHJJANI because his original name Gobind (Krishna) was dead. His full printed testimony can be had on request.
FOR GOD IS NOT UNRIGHTEOUS TO
FORGET YOUR WORK AND LABOUR
OF LOVE, WHICH YOU HAVE SHOWN
TOWARD HIS NAME, (Heb.6: 10).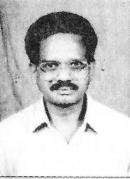 K. Valsalan
Present Chairman of the IPMA is K. Valsalan. Coming from a heathen background, he was like doubting Thomas since 1974, yet the Lord loved him and upbraided his unbelief so much that ultimately he was born again in 1977 by the Spirit of God. Since then he has been simply and silently carrying out the Lord's mission to the poor and needy, broken hearted and thus winning precious souls to Christ. The fierce trials like in the furnace of afflictions (Is 48:10) with discouragements and failures God's all sufficient grace made him an evangelist, preacher and teacher. God is using him mainly amidst heathens, those who are left out of big Crusades, who do not have any fellowship with other believers, sick with incurable diseases, lying in homes and hospitals, aged believers and backsliding Christian pilgrims. He has now a clearer vision to expand the areas of operation through IPMA. His printed testimony "How was I converted to Christ" is available on request.
IPMA is burdened to raise soul winning ministers and the Lord is giving new Christian comrades and also new souls are being added through recently started THRONE OF GRACE gospel fellowships. The hurdles have always been paucity of funds because no one has any fixed income. We are venturing all by faith.
YOUR PARTICIPATION
After that you believed the only living Lord & Savior Jesus Christ, who shed his holy blood and died on the cross for the remission of your sins and was risen on the third day from the dead for your justification and is ascended to heaven and that you believe that the Holy Spirit was sent to us to continue His ministry on the earth till His coming back to take you away, you are saved and secured in His omnipotent hands forever.
What next God may be leading you to do is what India Pioneer Ministerial Associates is appealing you.
• Count your many blessings and praise the Lord.
• Pray as often as possible for His ministers in India for bringing more lost souls to the saving grace of Jesus.
• Pray that all believers may become lights to other Indians through fruits and power of the Holy Spirit.
• Pray that many more souls may be saved and added to Bible believing churches.
We have many pressing financial needs in England and India. Please join us in prayer that God may provide all our needs.
IPMA believes that the work most dear to the Lord's heart is to reach out to unbelievers / sinners and feeding the lambs and sheep. And all those who get involved in this task for India by prayer and financial support will be richly rewarded by God is our solemn faith and earnest prayer for you on our knees in Lord Jesus' name. Amen.
Act upon brothers. Start communicating with us. You will get interesting news for God's glory.
If you wish to receive other peoples' testimonies for Christ through Brother Valsalan's ministry since 1978, kindly mail your address on a post card.
India Office:
K. Valsalan, Chairman
India Pioneer Ministerial Associates (Regd.)
16, Aashiyana Vihar, Shanta Apte Road,
Bopodi, Pune 411 003, India.
Tel.: 212-314416.